Keiichi Maeda, Director and CFO of CHANGE THE WORLD Inc.
Eleven years have passed since the Great East Japan Earthquake. Coupled with global warming, more and more people are looking to renewable energy as an alternative to nuclear power. We interviewed Mr. Keiichi Maeda, the Director and CFO of CHANGE THE WORLD Inc., which offers an app that allows individuals to easily become owners of a renewable energy power plant via their smartphones, under the slogan of balancing the pursuit of social meaning with economic rationality.
―Could you tell us about what CHANGE THE WORLD Inc. does?
We conduct businesses related to renewable energy to create a society where everyone can participate in the development of green energy. Our main business is to provide an app called watt store, which allows individuals to buy a renewable energy power plant via their smartphones. The number of users has grown to over 20,000.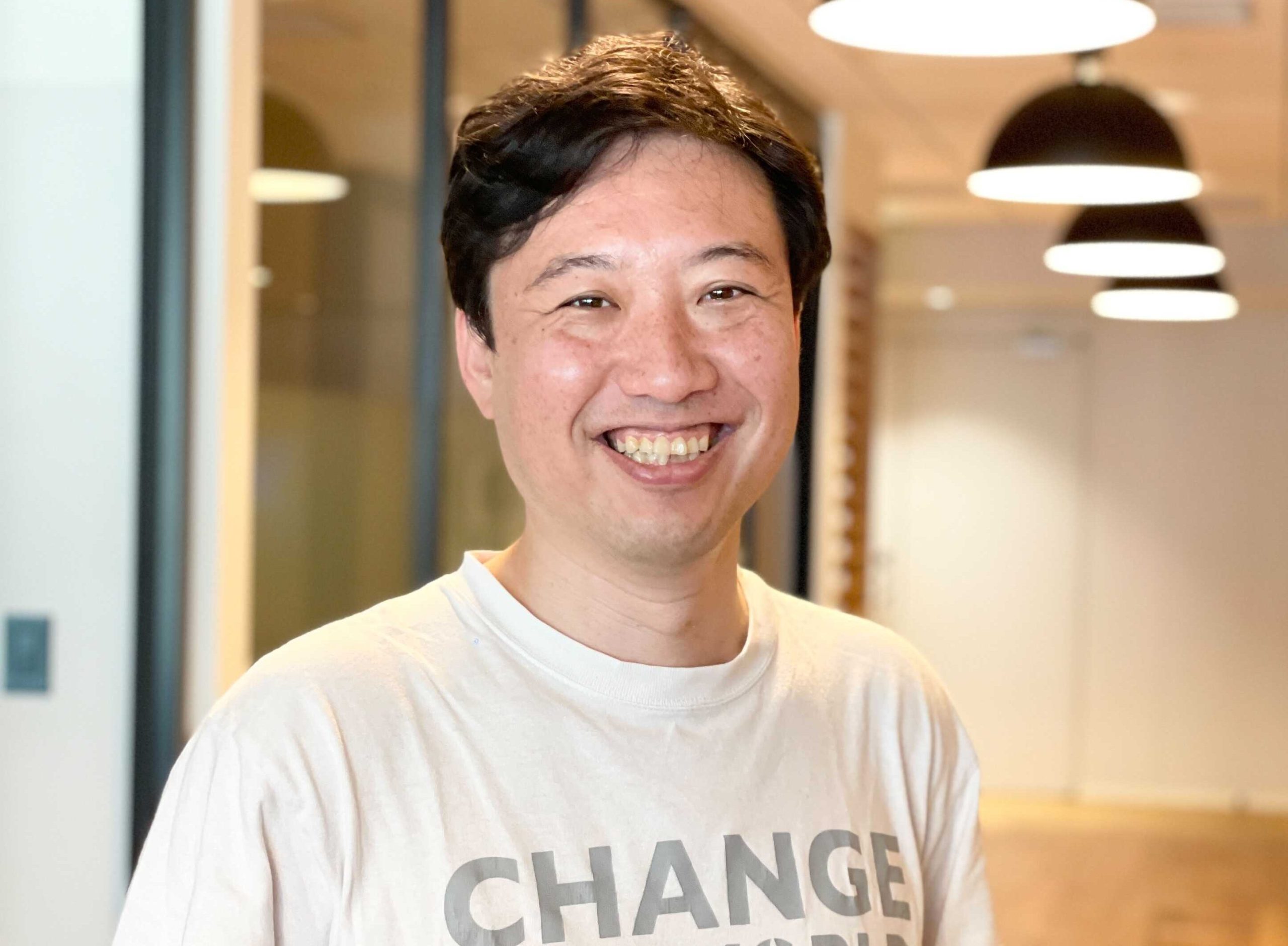 ―What do you mean by "CHANGE allows individuals to buy a renewable energy power plant via smartphone"?
The watt store application enables you to easily become an owner of a renewable energy power plant, such as a solar or wind power plant, via your smartphone. You can easily buy a portion of our renewable energy power plant for about 300 yen per watt and check the amount of electricity generated by your portion at any time on the website or app. The revenue from the sale of electricity is distributed to the owners once a month. This system allows individuals to participate in the spread of renewable energy without large amounts of capital.
―How was the company founded?
Our company was founded in February 2014 by Yuki Ikeda, Representative Director, who was born in Sakata City, Yamagata Prefecture in Tohoku. He was running the business of developing business systems for other companies when the Great East Japan Earthquake occurred. At that point, he felt a great sense of crisis for the next generation and decided to set up CHANGE THE WORLD to make renewable energy more widespread. This is a brief story of the foundation.
Ikeda and I have been friends since before I joined the company, as we were both presidents of other companies at the time. I ran a business academy for young people and an agency specializing in venture companies. Thus, I had had several opportunities to listen to his stories about the Great East Japan Earthquake and solar power generation while drinking with him.
Ikeda had been a big fan of solar sharing (farming photovoltaics) by means of regeneration of abandonment of cultivated land into farmland, or, in other words, balancing agriculture with solar power generation. I admired his pursuit of economic rationality and efforts on related issues.
―What made you join CHANGE THE WORLD Inc. as CFO?
I had an opportunity to stay in the countryside for a year for some reason, but I had nothing to do, so I spent all my time reading newspapers and watching news programs. At the time, most of the topics were related to decarbonization. When I saw that RE 100 (1) and the CDP (2) were gaining momentum in Australia and the United States, I thought, "I want to get involved in this kind of work when I return to Tokyo." Then, I remembered that my drinking friend, Ikeda, had told me stories about things like that.
―What is the social context of your business?
As we all know, it is clear that human beings are causing global warming. While Japan is targeting carbon neutrality by 2050, there are additional international trends such as the introduction of RE100 and a carbon tax (*3).

Japan and the rest of the world are steadily moving toward an era in which, for example, a company is abandoned by investors and business partners when it does not respond to environmental concerns and cannot guarantee its economic rationality. We believe that a company's environmental stance is going to become as equally as important for capital investment as the company's financial accounting.

Against this backdrop, we considered that we could provide services that could appeal to individuals by satisfying both users' needs for environmental contribution and financial investment.
―Why do you market to individuals rather than corporations?
Pursuing business from corporations would have a greater business impact, of course, but we would like to gather energy from a wide range of people to make a big force like the "Genki Dama" (Spirit Bomb) in the manga Dragon Ball. We are vigorously practicing this approach because we believe that the collective power of many different individuals is extremely powerful, as we can already see in procurement of claims and trading of stocks.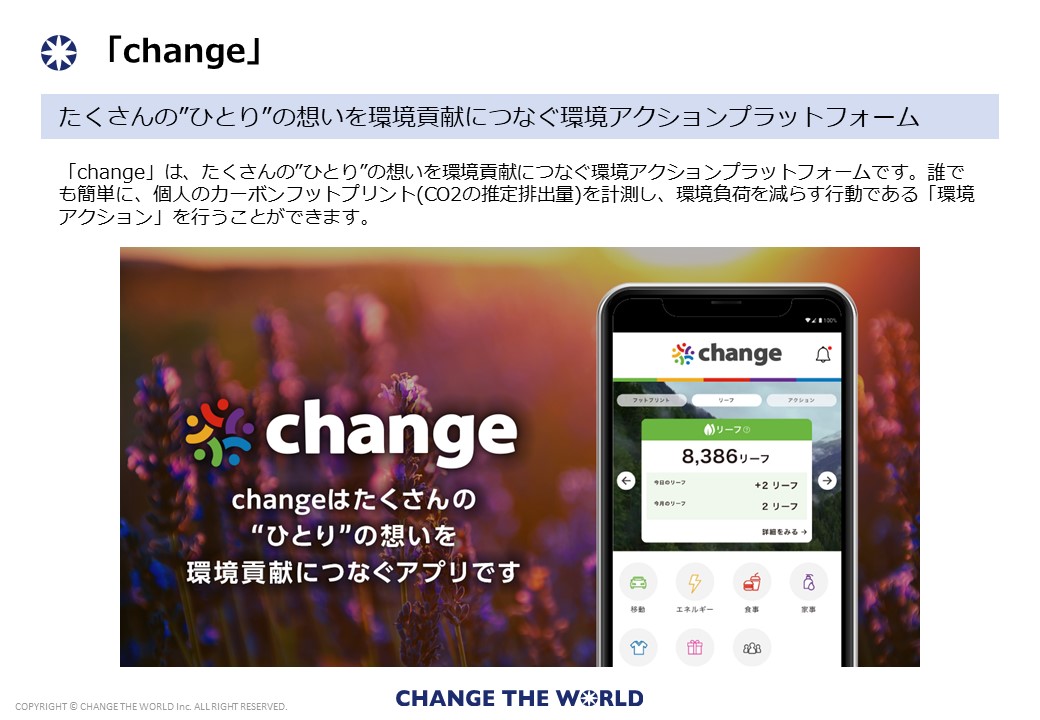 ―Please tell us about your efforts to appeal to individuals as an investment.
Our efforts include allowing individuals to easily use our services via their smartphones and to buy a portion of our solar power plant for about 300 yen per watt. We have made these efforts to increase the liquidity of solar power plants as much as we can.

These days, as we continue to emphasize how much we want to reduce environmental impacts through solar power plants, there is an increasing need for a tool with which individuals can act for and on the environment, in addition to being needed for investment.

To address this need, we launched a web-based application service called "change" to promote actions that reduce environmental burdens. It is an environmental action platform that measures how much carbon dioxide each user emits and connects the resulting emissions directly to specific actions that the user takes. After taking an environmental action, the user receives environmental value associated with J-Credit (*4).
―What social response have you received? How confident are you in this system?
Newspapers and trade magazines have occasionally covered our company. Recently, our services have been broadcast on NHK, BS TV Tokyo's Nikkei Special Money no Manabi (Lean about Money), and other TV media. I feel that awareness of our services is gradually expanding. There is also the general demand from corporations that are wondering how they should proceed with decarbonization. We have been receiving inquiries from them about our consulting service "CHANGE for Biz", carbon offsets, and the introduction of renewable energy.

However, public awareness of our services is still not high enough, so we would like to improve it this year. Since we mainly attempt to empower individuals to address societal issues, the key question is how low we can lower the bar for participation.
―What is the current organizational structure of your company?
Our company was built up by Ikeda, Representative Director, and Tatsunori Tamaki, Director and CTO, in a collaborative effort. In 2021, Takamichi Hozumi, Director and CAO, and I joined as a member of the management team. Our company currently has 54 employees. The sales department is responsible for the development and procurement of solar power. The watt store system has been built from scratch by engineers from the IT strategy department.
―What is your company's vision?
As our company's name suggests, it is to positively change the world in response to global warming and societal issues. All the members of our company are committed to that philosophy. The pursuit of economic rationality is of course a major issue, but we would like to place great importance on our social aspect; i.e., how socially meaningful our company is. When making decisions, I always make sure to keep the company name in mind, always asking myself whether I am doing right for the development of green energy.
*1. The term "RE100" is an abbreviation for Renewable Energy 100%. This initiative aims to generate electricity from renewable energy sources to cover 100% of the electricity required for business activities.
*2. The term "CDP" is an abbreviation for Carbon Disclosure Project and is the name of a non-profit organization in the UK that is a platform for disclosing information on the environmental impacts of the activities of companies and municipalities.
*3. The term "carbon tax" refers to a tax levied on the amount of carbon dioxide emissions resulting from the use of fossil fuels and electricity. It is one of the environmental taxes.
*4. The term "J Credit" refers to an emission credit granted through the Japan's CO2 reduction project where the national government certifies the amount of reduction or absorption of greenhouse gas emissions as credits.
Company Name:
CHANGE THE WORLD Inc.
Founded:February 2014
Number of employees:54
Main Businesses:"CHANGE for Biz" business (support for corporations in transition to 100% renewable energy), "watt store" business (a renewable energy power plant that can be purchased via smartphone), "change" business (an environmental action platform), solar sharing business, and SOLA VEGE business
URL:https://ctws.jp
Major awards:
*Selected for the Tohoku Growth Accelerator
*Selected for J-Startup TOHOKU, a program of the Ministry of Economy, Trade and Industry
*Won the Sustainable Design Award, a special award from the executive committee of Good Life Award, organized by the Ministry of the Environment
*Won an award for excellence at the final regional judging session of X-Tech Innovation 2021, held in Tohoku
*Won the Nomura Holdings Award at the 3rd Star Atpitch Japan Finals, sponsored by Nikkei Inc.
Official YouTube channel: https://www.youtube.com/channel/UCXpROS-DxPNhFSIOlCDaaSA
Official Facebook account: https://www.facebook.com/ctwsakata
Official Twitter account: https://twitter.com/ctwsakata
Official Instagram account: https://www.instagram.com/ctwsakata/
Original wear: http://ctwdesign.official.ec
This article is part of a series of articles introducing venture companies working together as ICF members to resolve societal issues.