Recent Activities
First Societal Issue Discussion: Preventive measures for nursing care (May 25th)
The Societal Issue Discussion is a forum for deep discussion on specific societal issues with ICF members to exchange information and opinions from a cross-sectoral perspective. More than 40 participants converged online for the first meeting this fiscal year to discuss preventive measures to avoid nursing care.
Participants explored the current situation and issues surrounding the support provided by the private sector as care in these earlier stages are usually not covered by long-term health insurance. Four panelists introduced their experiences, efforts, and findings .
[Panelists]
Ryoichi Iseda, Business Innovation Promotor, 5G & IoT Business Department, NTT DOCOMO, INC.
Daisuke Fuji, Deputy Director and Healthcare Business Accelerator, RENAISSANCE INCORPORATED
Yasuhiro Tsuchida, Board Director, CFO, and B2M Business Lead, Moff
Shinya Araiso, CEO, and Dr. Tsunehisa Araiso, CTO, LA TERRA Inc. (a BAP 2020 Finalist)
In the second half of the event, panelists fielded questions from the audience for an open-ended session. One participant raised an idea of a ceremony sponsored by local governments for seniors who reached 70, just like the Coming-of-Age Day Ceremony, as an opportunity for meeting and mutual learning. There was general consensus with constructive critique to set the idea into motion.
The Secretariat received a handful of positive comments highlighting the quality of exchange.
An article summarizing the event will be delivered online soon.
Platinum Career Award Ceremony & Symposium (June 8th)
"Platinum Career" implies a lifelong learning process and continuing contribution to both one's organization and society throughout their career. In the 100-year life, careers will span more years and require voluntary learning to gather new skills and experiences regardless of age.
The Platinum Career Award has recognized and honored companies that support such career development, each year, organized by ICF and Mitsubishi UFJ Trust and Banking, in cooperation with Toyo Keizai Inc.
In its third round, as in previous years, winners were selected from those companies that promoted remote working, side jobs, and parallel careers. This year also recognized initiative for introducing technologies in human resources and supporting employees' voluntary learning.
| | | |
| --- | --- | --- |
| | Awardees | Reason for the Award |
| Grand Award | AISIN CORPORATION | AISIN participated in the MHLW's Self Career Dock Promotion Acceleration Project and implemented its career maintenance system in full-scale in FY 2020. |
| Excellence Award | Suntory Holdings Limited | Suntory Holdings implemented the Career Vision program for career development through collaboration among three parties: employees, managers, and human resource departments. |
| | T & D Holdings Inc. | T & D Holdings offers a program to provide employees extension of the standard retirement age and continuous employment. These are designed for empowering all employees, regardless of job type, age, and gender, to be able to challenge themselves, enjoy their achievements, and participate via an active role longer. |
| | NEC Corporation | NEC offered two programs: the NEC Social Value Creation School and the Social Issue Experience Human Resource Development Program (SENSE). |
| Special Award | Eisai Co., Ltd. | Eisai introduced the Relearning for Rearming with Knowledge program to reinforce employees' opportunities to acquire new skills and experiences regardless of age. |
| | S-Pool Inc. | S-Pool offers a training process empowering employees to voluntarily acquire knowledge and skills, so that they may keep participating in an active role even if the company's business model is changed. |
| Toyo Keizai Award | Azbil Corporation | Azbil set up remote work options for both permanent employees and part time workers. Side jobs or parallel careers are also allowed. |
BAP 2021: Application opened on June 16th
The Business Acceleration Program (BAP) 2021 has started accepting business ideas for resolving societal issues on June 16th. This year, the program focuses on the new normal and expects ideas targeting this post-pandemic society.
To better serve ICF members' interests, the competition will be followed by additional efforts toward business and capital alliances with startups which may lead to co-creating new markets.
The Secretariat welcomes inquiries from those large corporate or local government members that are interested in enhancing collaboration with startups. Co-creating Members will be invited to the final pitch contest and matching opportunities with the applicants.
For details: https://icf.mri.co.jp/activities/activities-362/
Recommended Reading:
3X : The future brought by innovative technology and communities
(Mitsubishi Research Institute, published May 2021, Diamond Inc.)
In 2020, Mitsubishi Research Institute conducted research in commemoration of the 50th anniversary of its founding. This 50th Anniversary Research envisioned the desirable future world for the next 50 years including how it can be achieved the measures necessary to make that world a reality.
In 300 pages and a compact A5 size , the book, 3X, introduces the core ideas of the research and vision for the future.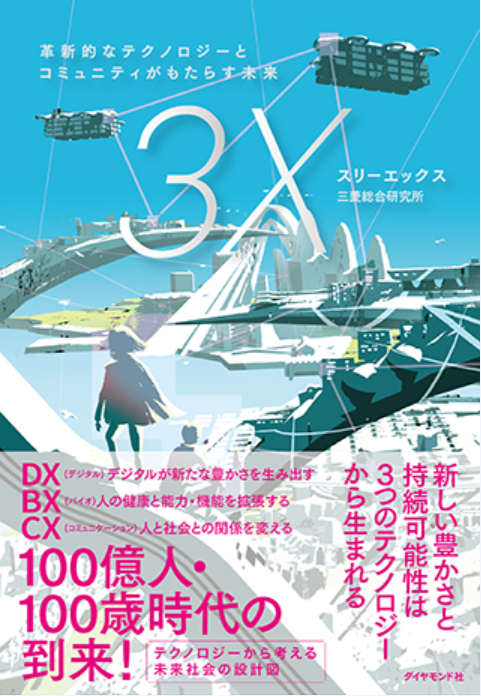 The earth is on track to see lifespans reach 100 years and population reach 10 billion in the next 50 years; in such a world a balance of both prosperity and sustainability will be paramount.
The key message is that the 3X and mutual sphere concepts can drive change toward realizing that desirable future world. 3X, the first concept, refers to the Digital Transformation (DX), Bio Transformation (BX), and Communication Transformation (CX), with BX and CX coined by MRI. In each, advanced technology will transform both individuals and society as a whole. Mutual sphere, the second concept, refers to a future form of community that reflects ever changing values and lifestyles and where new value is generated by individuals through sophisticated collaboration.