Recent Activities
First Seminar on Listings of Societal Issues held on June 11th
As a new initiative, ICF commenced a series of seminars illustrating the Listings of Societal Issues and held its first event online welcoming more than 60 participants.
Several subsequent seminars are scheduled through December. Each seminar will demonstrate societal issues selected from 30 themes covering ICF's six focus areas in the FY 2020 edition:
Wellness
Water and Food
Energy and Environment
Mobility
Disaster Prevention and Infrastructure
Education and Human Resource Development
Additional societal issue candidates for the FY 2021 edition will also be discussed.
The first seminar was kicked off by the ICF Secretariat explaining the overall framework and concept of the Listings, which was followed by specifics on the Wellness and Disaster Prevention & Infrastructure areas. As for Wellness, the focus in the FY 2020 edition was on the priority problems of the self-support of seniors and the increase of mental health issues. "Loneliness & isolation and "women's health" will be added in the FY 2021 edition.
For Disaster Prevention and Infrastructure, the focus in the FY 2020 edition was on natural disasters and social infrastructure. Cybersecurity will be added in the FY 2021 edition.
FY 2020 Primary Themes
FY 2021 Primary Themes
Wellness  
•Self-support of seniors
•Increase of mental health issues
•Loneliness and isolation
•Women's health
Disaster
Prevention &
Infrastructure
•Natural disasters
•Social infrastructure
•Cybersecurity
Before closing, a Q&A session was held, which was followed by the post discussion chat and networking session among interested participants. Discussion included the changes in societal issues due to the COVID-19 pandemic and the ideas of enhancing self support capabilities and mutual support capabilities against natural disasters.
The next seminar will be held in August.
Link to the seminar report (in Japanese): https://icf.mri.co.jp/activities/activities-3323/
Second Societal Issue Discussion Held on June 25th: Health issues for working women
The Societal Issue Discussion is a forum for ICF members to examine specific societal issues in depth with ICF members to exchange information and opinions from a cross domain perspective. Over 40 participants joined in online for the Second Discussion in FY 2021 examining health issues for working women. Participants discussed in-depth health issues specific to women that hinder their ability to perform at work including PMS, fertility treatment, postpartum depression, and menopausal symptoms. In the first half of the meeting, four panelists shared the views and the actual business activities that their companies are undertaking to deal with these issues:
Yohei Asami, Director, Strategic Alliance Office, TASKAJI Inc.
Mayumi Ishii, Public Relations, Mirai Works Inc.
Yukari Tsunoda, Representative Director and CEO, vivola Co., Ltd.
Akiko Hamada, Representative, Happiness in Working Research Institute, Co., Ltd.
In the second half, the discussion involving all the participants covered the health issues for working women in different working styles, difficulty of addressing the issues in organizations, and changing behaviors at individual level. There was a wide variety of feedback from both female and male participants including: the need to eliminate stereotypical perception that fertility treatment is a problem for women only and the need for wider understanding that costs related to empowering women must be considered an investment. ICF strives to continue taking up women's health issues.
Link to the discussion report (in Japanese): https://icf.mri.co.jp/activities/activities-3402/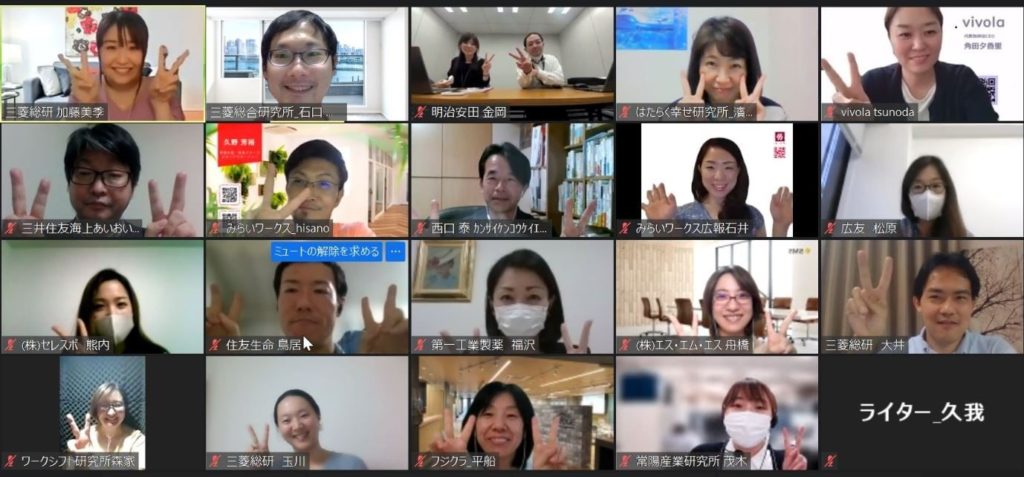 Upcoming Activities (July – August)
MRI to release video commentary on 50th-anniversary publication: 3X
In 2020, Mitsubishi Research Institute conducted research in commemoration of the 50th anniversary of its founding. Overviewing the next 50 years, MRI made in-depth discussion and study on the desirable future world and various measures for its realization. A book in Japanese entitled 3X is the outcome of those efforts.
https://www.mri.co.jp/knowledge/books/20210519.html
MRI will release a video on the ICF members' website in which key authors introduce the book's pivotal points. In addition, Co-Creating Members will be invited to a discussion with the authors. Interested members are requested to apply following the instructions in the e-mail from the Secretariat.
Useful Information
JETRO Seeks to Support Overseas Startups
The Japan External Trade Organization (JETRO), an ICF Supporting Member, is organizing the following event.
JETRO is organizing a program as a part of Viva Technology, Europe's largest tech conference for startups. The program, Japan Challenge for Society 5.0 – Accelerate Innovation with Japan -, calls for overseas startups that tackle societal issues in Japan. To contribute to driving collective impact on societal issues, the ICF Secretariat is taking part as a sponsor and plans to delegate staff as speakers and for other roles.
The Secretariat will share updates of the program with members. Please share this information with overseas startups working to resolve societal issues.
* Details and promotional video:
https://challenges.vivatechnology.com/en/challenges/japan