Recent Activities
Good Number of Applications for Business Acceleration Program (BAP) 2021
Application for business ideas in BAP 2021 was closed on July 26.
The selection process from hereon consists of two steps: the screening of documents followed by presentations from applicants. About six finalists will be selected to advance to the final pitch contest scheduled for December. These finalists will also be offered a mentoring program provided by MRI researchers and external advisors. ICF members are encouraged to communicate with the applicants and will also be invited to monitor the final pitch contest. Please refer to the following for details of the program.
https://eiicon.net/about/icf-acceleration2021/
Future Co-Creation Project (FCP) on Behavior Change Based on Behavioral Economics:
First lecture on August 5
In resolving societal issues, a major hurdle is to have people actually take actions—in other words achieving behavior change.
In preventing lifestyle-related diseases or the need for long-term care for example, behavior must be changed at the individual level to facilitate a change in society as a whole.
While various studies are underway to induce behavior change, this FCP focuses on deepening knowledge through lectures by experts and networking among interested members.
The first meeting of the FCP was a lecture session in which Dr. Fumio Otake presented on the nudge concept, a timely and relevant topic.
Nearly 90 people participated in the event which was followed by post lecture networking session.
The lecture materials will be shared exclusively among ICF members in the coming days.
■Outline of the meeting
・August 5, 2021, 15: 00 – 17: 15 (online)
・Participants: ICF members interested in the subject
■Program
・Overview of the FCP
ICF Secretariat
・Lecture "The Definition of a Nudge and How to Create One"
Dr. Fumio Otake, Adjunct Professor, Center for Infectious Disease Education and Research (CiDER), Osaka University
・Q & A
・Exchange of opinions and networking
The second FCP will be held on September 3rd.
Insight Report by Phase-Free SIG Published (July 15)
The Insight Report: Value in ordinary times, support during crises by the Phase-Free SIG, active under the former INCF, was released to introduce an overview of their research and the ICF's thinking.
The work is focused on the phase-free concept under which products and services are created for use in both ordinary times as well as in emergency situations. Link to the report (in Japanese):
https://icf.mri.co.jp/wp-content/uploads/2021/07/report_20210715.pdf
MRI Released Walk Through Video on 50th-Anniversary Publication: 3X
In 2020, Mitsubishi Research Institute conducted research in commemoration of the 50th anniversary of its founding. The project overviewed the next 50 years, including discussion and study into the desirable future world as well as various measures to realize it.
MRI published the book 3X in Japanese based on the results of this research.
https://www.mri.co.jp/knowledge/books/20210519.html
The editor and authors of 3X also produced a video explaining the key points and summary of this research; the video was recently posted on the ICF website exclusively for members.
Note: This video is intended to be exclusive to ICF members, and we request that members refrain from sharing it with other organizations.
MRI 50th anniversary publication 3X walk through video (in Japanese):
https://icf.mri.co.jp/note/m50-3x/
For the general public, a series of articles have been published on the Diamond Online website in Japanese entitled How 3X Will Change the Society:
https://diamond.jp/articles/-/275906
https://diamond.jp/articles/-/276084
Upcoming Activities (August – September)
MRI to release video commentary on First Installment of the Societal Issues Report:
Wellness and Disaster Prevention & Infrastructure
The secretariat has started compiling the FY2021 edition of the Listings of Societal Issues. In addition to the full-length listings issued annually, interim releases are planned to be posted on the ICF website three times a year as the Societal Issues Report focusing on a collection of specific areas.
The first installment will cover wellness and disaster prevention & infrastructure. It is planned to be exclusively released in Japanese to ICF members by the end of August.

Annual Plan for Societal Issues Research
The secretariat plans the following activities toward the end of this fiscal year to share the results of its research on societal issues with ICF members. Details will be provided through e-mail and the ICF News as appropriate.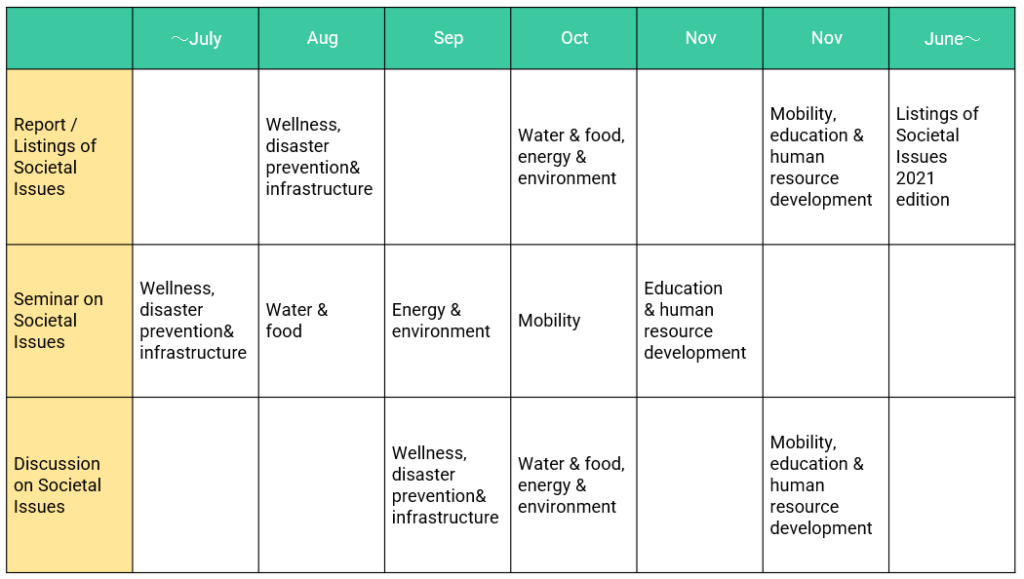 Useful Information
Impact Report Published on A's Child Inc. Filii service
ICF has been assessing the impacts of business initiatives aiming at effectively resolving societal issues. The latest assessment examined Filii service offered by A's Child Inc., a Startup Member, and was recently published on the ICF website. Filii fosters safer use of smartphones in order to protect children from hazards inherent in an internet-based society. The report features visualizations of the value created by Filii's new rule management function. It subsequently concludes with an analysis and evaluation of the actual effects on children's behavior change via Filii.
Filii Impact Report (in Japanese): https://icf.mri.co.jp/wp-content/uploads/2021/07/Filii_impact-report.pdf
Press release by A's Child Inc. (in Japanese): https://www.as-child.com/filii/4455