Mr. Yushi Masumoto, Representative Director of Activatelab co., ltd.

Note: This article was originally published on the website of the INCF (the predecessor of ICF) in February 2020.
We interviewed Mr. Yushi Masumoto, the Representative Director of Activatelab co., Ltd., which seeks to achieve a healthier market for people with disabilities to bring about a society where more people with disabilities do not have to give up.
―We know that becoming disabled with a very big and very sudden change for you. Could you tell us about how that related to your motivation for starting the business?
Masumoto: I was a salesman without disabilities until the fall of 2009. After suffering a cerebral hemorrhage, I devoted myself to rehabilitation for four years, but even now I still suffer from paralysis on the right side of my body, stuttering, aphasia, and higher brain dysfunction. Now, I am certified as a person with grade 2 physical disability. As a disabled person, from working to starting my own business, my experience with the environment surrounding disabled people was unimaginable!
The first thing I felt was that those without disabilities did not understand those with them. After recovering to a level that allowed me to work, I started working again with great enthusiasm; but the company I worked for told that all I had to do was to sit at a desk. My true abilities were not recognized, but I made my own moves and managed to make40 million yen in sales!
Another problem I am aware of is that there are many people with disabilities who are discouraged by the high barriers to participation in society and have lost their motivation. One person with the same disabilities as me whom I met during a commute said, "It's no use trying hard at work, I just wait for time to pass." That was shocking to me. Furthermore, I feel that the market for people with disabilities is still developing, so there are not yet enough services that are inherently beneficial to people with disabilities.
Some employers hire people with disabilities only for government subsidies, saying that they do so out of goodwill for the disabled. Some NPO services often lack continuity and end in a single fiscal year due to budget reasons, while disabilities usually do not change from year to year.
My career in marketing and sales has given me a strong awareness of problems within such a market where usual economic activities do not take place. I think that I wanted to make things better on my own as much as possible. That is why I started my business.
Company name:
Activatelab co., ltd.
Founded:July 2015
Number of employees:6
Main business:: Providing services based on Bui-kun, which is a matching engine that uses information on disabled body parts and disorders, in addition to developing and providing an SNS called OpenGate.
* Activatelab won the Grand Prize of the INCF Business Acceleration Program (BAP) in 2019.
―What services do you offer to help solve these problems?
Masumoto: For the employment of the disabled, we are developing a system to help recruiters understand that the types and range of jobs that can be handled differ person to person. This can depend on the disabled body part and disorder of the person, but also the cause and degree of the disability itself. In Japan at present, disabled people are judged based on whether their disability is present mostly in the upper body or the lower body. However, I am paralyzed on the right side of my body, so I can actually move the entire left side of my body more dexterously than average people. I can even give presentations in a normal way. I would like to create a society where recruiters and colleagues recognize the reality of situations like mine, and essentially understand the abilities of people with disabilities more clearly so that the disabled can be hired as effective workforce.
We also operate an SNS called OpenGate, which is dedicated to people with physical disabilities and allows them to connect with those who are in the same situation. We understand the concerns and needs of people with disabilities through their daily interactions and use them to develop our services.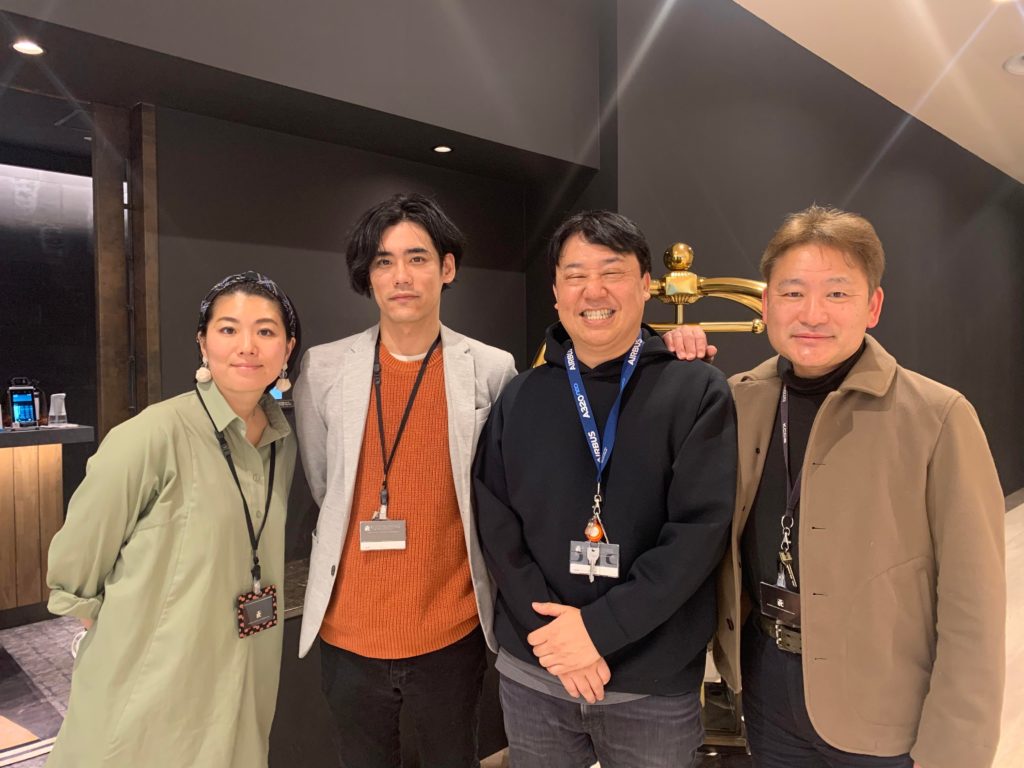 ―How have you increased the number of supporters and expanded your business?
Masumoto: I continued to share with my friends my awareness of the problems in the environment surrounding people with disabilities. The fact that they agreed, even though they were surprised, made me realize the potential of the business. I feel that this process was very important. I talked with one of the supporters several times a week for about a year to refine my business model. This brainstorming period is the foundation of our current services. Since 2019, we have been working to strengthen our business capabilities by inviting Nasu, who has expertise in business and capital strategies, to serve as a director. In addition, we are promoting our business with members who are strong in various fields, such as system development and personnel strategy.
Nasu: I have experience in corporate management, and I felt that there was a lot of growth potential in the market for people with disabilities, including overseas ones. I also felt that there was a need to solve deep-rooted problems in the market. I feel that having a population of people with disabilities on the SNS OpenGate will be an advantage in solving all the issues in the market in the future, in addition to increasing the employment rate of the disabled.
―Are there any measures to change the existing market for people with disabilities?
Masumoto: The traditional market is untouchable, and there is a negative image of doing business that targets people with disabilities. But it is undermining the development of a healthy market. We are a company started based on my own personal experience. Our biggest strength is that our persona is who I am. We will provide services that cater to people with disabilities from their own perspectives.
―What are your hopes for the future?
Nasu: Since June 2019, we have focused on raising funds and acquiring partners. At present, we pursue collaboration with Fujikura, which focuses on health management and works on the promotion of diversity and the reform of job satisfaction and with the NTT Data Institute of Management Consulting, which has expertise in organizational change and personnel strategy. We would like to continue gathering supporters.
―Finally, what message do you have for readers?
Masumoto: I want to create a society where no one has to give up. So, people with disabilities, please look forward to it. We will do our best to realize things that have been given up before, such as feelings of wanting to go somewhere, watch something, and support someone. Through the spread of our services, we will realize a society where people can work energetically regardless of whether they have disabilities.
MRI's EYE
We sympathize with the attitude of creating a market and jobs in a new way toward a society where no one has to give up. With a charismatic and cheerful personality, which is one of the company's strengths, Mr. Masumoto develops his customer base using himself as the company's persona. We believe it is important for society to create new possibilities and expand existing ones for people with disabilities. We also believe it is important to review work and management policies regarding work done by people without disabilities.
This article is part of a series of articles introducing venture companies working together as INCF members to resolve societal issues.