Dr. Xiaojun Sun, Representative Director of BionicM Inc.

Note: This article was originally published on the website of the INCF (the predecessor of ICF) in March 2020.
To solve the biggest issue of prosthetic leg use, Dr. Sun founded a robotic prosthetic leg business that will enable users to smoothly climb up and down stairs. We would like to introduce his efforts to create new value by attracting other volunteers.
―Could you tell us what motivated you to start the business?
Sun: I was born and raised in China. When I was nine years old, I had to have my leg amputated due to illness and was on crutches for 15 years after that. After coming to Japan, I used a prosthetic leg for the first time and learned how nice it is. After graduating from university in Japan, I joined SONY and became an engineer involved in electronic products. During that time, I also discovered some of the inconveniences of using a prosthetic leg, and I decided to make a good prosthetic leg on my own. So, I entered a doctoral program at the University of Tokyo in 2015 to study prosthetic legs.
At that time, I had applied for a summer internship at a major global prosthetic manufacturer, but unfortunately, I was not selected. I finally thought, "The only way to realize my dream is to build my own company!". After that, I went to the Entrepreneur Dojo at the University of Tokyo, received research support for prosthetic legs from the Japan Science and Technology Agency through the Program for Creating Start-ups from Advanced Research and Technology, and established the company in December 2018. This may seem like it was a bold decision, but it was a natural one for me because I had always made spontaneous decisions in my life in the spirit of "just do it" and, in this case, I wanted to start a business.
―How is your dream coming true?
Sun: With the mission statement of "Powering Mobility for All," we seek to improve the quality of life for all those struggling to get around. At present, we are developing products for people with lower limb amputations, but we hope to eventually expand our business to elderly people with weakened muscles and those with other disabilities.
We first unveiled our robotic prosthetic leg at the ISPO 2019 (World Congress of the International Society for Prosthetics and Orthotics) in Kobe in October 2019, where we received great user feedback. We were also interviewed by NHK and broadcast in a morning program. A prosthetic leg user from Shiga Prefecture saw the program and rushed to the venue in Kobe. We were really happy to meet someone who was really excited about our products. Currently, we are working hard to find partners and make other preparations, and we are aiming to start selling in 2020.
Company name:
BionicM, Inc.
Founded:December 2018
Number of employees:18
Main Businesses:・Research and development of mobility devices that integrate robots and humans
・Research, development, and commercialization of robotic prosthetic legs
―Many people have joined BionicM in the year since its foundation. What do you think attracted them?
Sekiguchi: I met Sun at an event hosted by the University of Tokyo Edge Capital Partners (UTEC) that matches startups with students and adults. Although Sun did not use strong keywords in his talk, he said, "Even going up and down stairs is difficult for lower limb amputees even though the movements are essential for daily life." That made me want to tackle the issue together with him. I used to work in a consumer products industry. As the market matured and saturated, I felt that I did not really enjoy minutely improving the quality of products.
Unlike consumer products, increasing advertising does not necessarily make prosthetic legs sell, which makes this business challenging. But I was attracted to the challenge. Our CEO Sun is not a leader who vigorously leads us with words, but his employees are moved by his strong feelings about the business and his goals and find themselves involved.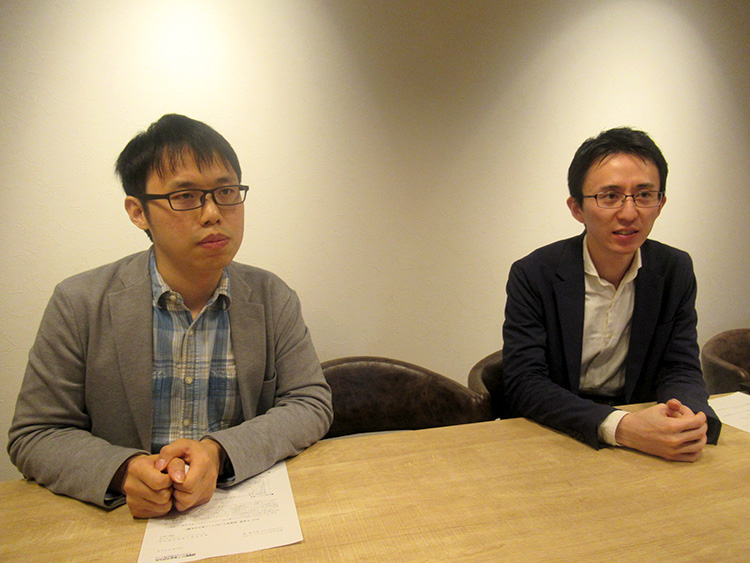 ―In proposing new values, are there any difficulties such as conflict with conventional values?
Sun: Right now, we are trying to find partners to sell our products to and facing many difficulties. Unlike the medical field, which has strict industry regulations, welfare is a field with few regulations, but I feel that there is an invisible barrier of conservatism in Japan. I suppose that people feel like not wanting to change the conventional sales style because they are afraid of the risk of getting contacted when a product is broken or causes injury. Companies we visit often say, "We will think about it after the product is completely finished." However, the completion of our products requires repeated trials by actual users and improvements. If we do not take measures to change this approach, a vicious circle will occur.
What we can do now is to pay attention to the initial impression our robotic prosthetic leg makes on potential partners. Companies with a high interest in manufacturing respond better, so we give priority to visiting them. China is more active in introducing new products. Therefore, we are also considering the possibility of finishing our products by repeating user tests in the Chinese market first and then selling them in Japan.
―What are your expectations and aspirations for solving societal issues?
Sun: I feel that there is an invisible barrier to startups as we launch our products. It would be good if there was a culture in Japan like overseas where people positively try new ways, dealing with problems as they come up. We aspire to be called the "Tesla of prosthetic legs." We hope that our robotic prosthetic legs will create a new market just like electric vehicles and contribute to solving the problems of prosthetic leg users.
MRI's EYE
Japan, which has developed as a manufacturing power, tends to seek perfection in products. Dr. Sun pointed out that the tendency could work as a conservative hindrance to the creation of new value. It is also a barrier that people who want to create new innovations need to overcome as well as being an issue that a society that accepts and introduces new technologies should consider.
This article is part of a series of articles introducing venture companies working together as INCF members to resolve societal issues.